Welcome on tron-cnc.de - the DIY CNC Router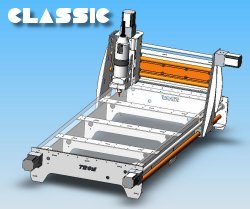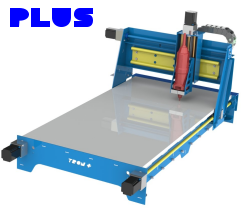 On this page you'll find information for the CNC router called TRON
TRON defines a easy and cheap way, to build a professionel CNC-Router without having the complete equipment mill and a rotary tool. The CNC Router is build for the use of RC-Models builder to cut Ply, Wood and CFK.
TRON has been build in beginning 2006. You can see pictures in my gallery or movies on the download section betrachten.
The following criteria are used to develop the CNC-router:
cheap design (<1000 €)
acceptable accurance for RC-model building
stable frame build by steal
easy way to build without a huge workshop
professional but cheap sliders
Fun to build router :-)
The result of this development is now presented as a construction plan of TRON. You can purchase a building licence from me. More regarding this in the Shop area.
Working area: ~990x380x58mm (Classic), 980x480x90 (Plus)
If you got questions regarding the construction, please take a look into the FAQ area of this page. You can also send me an email in the contact area.
Jens Niemeyer
February 2009
Hannover
CNC Fräse, Graviermaschinen, Portalfräsmaschine, Portalfräse, Fräsmaschinen, CNC-Fräsmaschine - Bauen Sie sich Ihre eigene Maschine nach meinem Bauplan, kostengünstig und stabil.